Home
Talk

19
379pages on
this wiki
Welcome to Groovypedia, a That '70s Show database that anyone can edit.

This wiki is currently undergoing heavy construction. However, feel free to contribute during this time. Groovypedia is under new management, due to inactivity of the former administrator.
OmNomNomAttack is now the new administrator. If you need to contact her, please go here.
Thank you, and have a groovy day!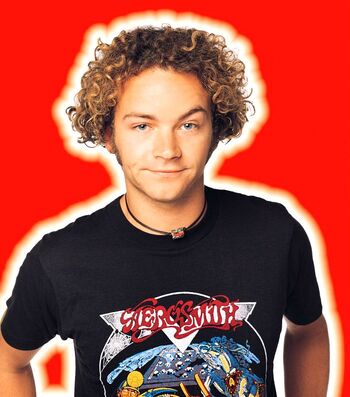 Steven Hyde
(born c. November 18, 1959) is the illegitimate son of
William Barnett
and
Edna Hyde
, stepson of
Bud Hyde
, and adoptive member of the Forman family. Hyde represents the adolescent of the seventies that was suspicious of government and organizations. Steven Hyde had a rough childhood. His step-father, Bud had abandoned him at a young age. Steven continued to be upset with him for years until he finally reconnected with him in season 3. In season 1, Hyde was abandoned by his mother, Edna Hyde who only appears for 1 episode, and is heard in 3 others. Hyde and his mother generally do love each other but argue worse than other families. In the end, Edna generally does love Hyde and admits that she was never a good mother. She apparently knows about Hyde's illegal doings, because it is hinted that she is the one that gave him his fake ID to buy beer...
Read More...
Groovypedia's Heavy Construction
Through the following link, you will find a list of articles that need to be expanded on this wiki. Many of the articles do not need to be there, as there is no more information there that hasn't been said in the series or through an interview. I will rectify this, effective immeadiately. Needs to be Expanded
Many, if not all, of the articles on episodes need to be rebuilt (season 1, episodes 1 - 16 not widthstanding). Please see That 70's Pilot as a reference to see how the articles for Episodes should be set out. Please see any of the main cast pages (listed on the main page) as a reference to character pages. Also, please put on any tags that are relevant or notify me if you are confused.
We're all in this together, so if you think something needs to change, please leave me a message here. Thanks.
"Good day!" "I said 'Good Day!'"