Betsy Kelso is a character on FOX comedy That '70s Show.
Character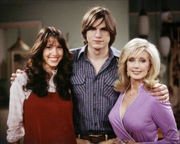 Betsy is the daughter of Michael Kelso and Brooke Rockwell. She was conceived during a Molly Hatchet concert. Throughout Season 6 Kelso must adjust to life as an expecting father. Betsy is born at the beginning of Season 7. She lives with her mother and grandmother in Chicago. At the beginning of Season 8, Kelso moves to Chicago to be closer to his daughter.
Ad blocker interference detected!
Wikia is a free-to-use site that makes money from advertising. We have a modified experience for viewers using ad blockers

Wikia is not accessible if you've made further modifications. Remove the custom ad blocker rule(s) and the page will load as expected.